Does this sound like you or someone close to you?
• She lives in a tornado
• How can they be so smart and so forgetful?
• I procrastinate, avoid, and shut down.
• He's late for everything.
• She constantly puts her foot in her mouth.
• They say inappropriate things and have no friends.
Are you frustrated, concerned, and unsure of how to get better results?
Untreated Executive Functioning has been found to correlate with:*
• academic problems
• work-related difficulties
• substance dependency and abuse
• school suspension or drop-outs
• sleep problems
• excessive internet use and addiction
• a higher likelihood of development of Type II diabetes, obesity, an eating disorder, or suicide attempts
*Based on CHADD 2011 Teacher to Teacher and Dr. Russell Barkley's 2015 Health Problems and Related Impairments in Children and Adults with ADHD
Imagine...
….Confidently prioritizing, starting, and following through with multiple steps in your work
….Helping someone you love to gain the skills they need
….Getting the guidance and support you need to live a more satisfying and effective life
Introducing:
Boost Your Executive Functioning
In Nine Exciting Ways
with ADHD
During this online video course for adults and parents of complex kids of any age, you get the knowledge, skills, and accountability you need to take on your challenges by:
• Learning nine areas of executive functioning and how they impact your performance
• Discovering strengths in each of the nine executive functioning areas so you can fortify what you CAN do rather than what you CAN'T
• Targeting optimal strategies unique to each of the nine areas to engage your brain and improve brain functioning
• Moving forward with an actionable game plan to boost performance
Boost Your Executive Functioning in Nine Exciting Ways with ADHD will support you to:
• Learn more effectively
• Make positive and healthy decisions
• Strengthen your performance
• Develop ways to prioritize the change you want
• Identify personalized action steps to get there
• Lay the foundation for living with less stress, more peace, and calm
30-Day. Risk. Free. If you decide this class is not right for you, you have 30 days for fees to be totally refunded. You also have the option to apply the funds to private coaching, even if it's only a one-time session.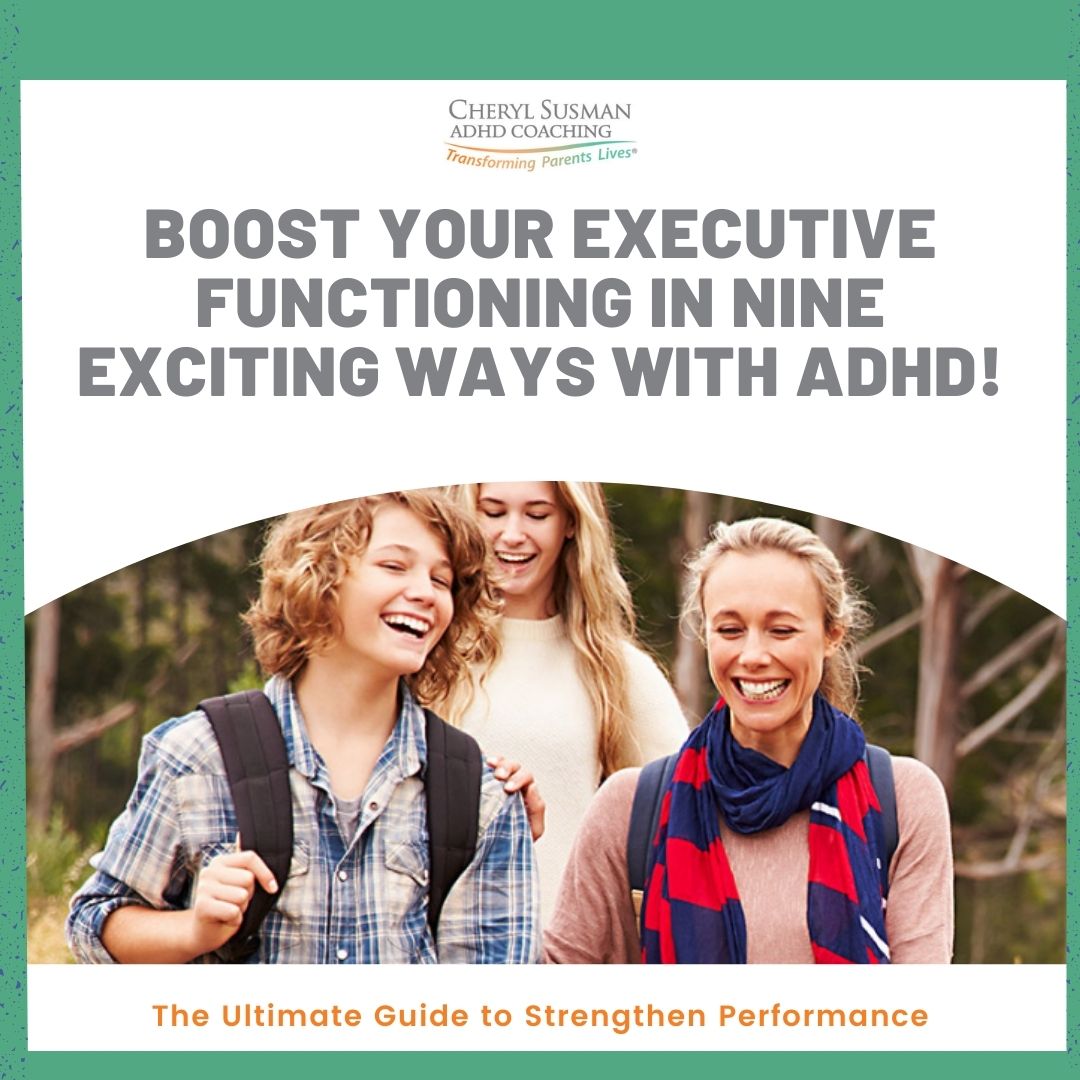 Course Details:
WHAT IT IS: BOOST YOUR EXECUTIVE FUNCTIONING IN NINE EXCITING WAYS WITH ADHD
WHAT YOU GET: Self-paced video series, downloadable materials you keep FOREVER, a BONUS for participating ..... and more!
WHERE: The link is below!
WHY: Because you're worth it, your family is worth it, because you want to get the knowledge and support you need and because now is the time to make it happen.
INVESTMENT: $149
---
Testimonial
I started working with Cheryl when Covid began, and I have appreciated how she has been the one solid rock for me during this challenging period in life.
Cheryl truly cares about her coaching clients with non-judgement and compassion. I'm amazed at her ability and intuition to help me see other perspectives and to successfully navigate whatever stuck situation I bring to her.
I especially appreciate Cheryl's knowledge and insights into the unique complexities people with executive functioning issues struggle with on a daily basis. As a business owner, mom, wife, and caretaker daughter, I recommend Cheryl without hesitation to anyone who is feeling overwhelmed and needing the right support.
The personal and professional growth I've experienced with Cheryl as my Coach has been priceless.
-Mia Travis